It is possible to be stylish and professional regarding what we are putting on our feet. If your feet are hurting, it is going to be hard to focus on your work tasks. This doesn't mean that you should show up in slippers. Unless you work at a job that would allow that. Anyone that needs to appear professional or dress for a dress code should continue reading. There are many options to consider. Take a look are spend more time excelling in your profession and less time rubbing your feet.
Chukka Boot
These stylish boots will leave your feet feeling great after a forty-hour workweek. Chukka Boots are one hundred percent leather, and the quality will stand out. With eleven different colors, you can have a pair to go with each shade of suit you own. Of course, some colors are pricier than others. One review left tells all those on the fence that these boots are made for walking. This is exactly what you want to hear about a shoe you will spend most of your day in.
Allbirds
There are many different types of flats out there on the market. Flats are a go-to for women that want to be stylish and comfortable. They lose the inches they gain from heels for more comfortable feet. Allbirds are one to take a second look at. They are made in South Korea from eucalyptus tree fiber. It helps gives their luxurious silky-smooth texture. Another great feature is that they are made to be washed in the washing machine. All you have to do is take out the insoles and then let them air dry after.
Cole Haan Loafer
A loafer is always an easy option. The Cole Haan Loafer does not disappoint. How fantastic is a shoe that you do not have to worry about coming untied? Slip them on in the morning and never have to worry about them until you get home and slide them off. There are fewer color options when comparing it to the other option on this list. However, they are created with a sport-inspired design to help them be as flexible as possible. Being flexible along with a full padded sock liner helps set this shoe apart from the others.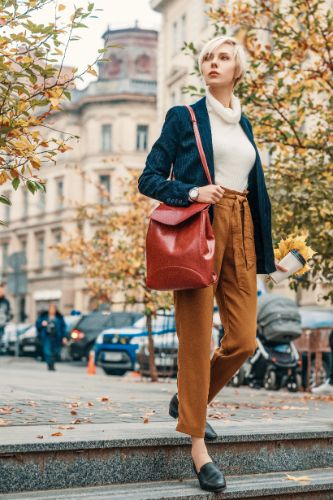 J.Crew Factory
No one wants to spend an arm and leg on work shoes. J.Crew has a good range for most budgets. One shoe that women should take a look at is their wedges. When looking for heels that won't have you begging for closing time, look for the wedges. Skinny heels are much harder on your feet than those with thicker heels. Get the extra height without the additional pain. The Canvas Espadrille Wedges are a favorite right now. Grab a pair of wedges in every color, so you never have to pick height over comfort.
Find some shoes that make you feel great when you look in the mirror and when you spend long periods on your feet.