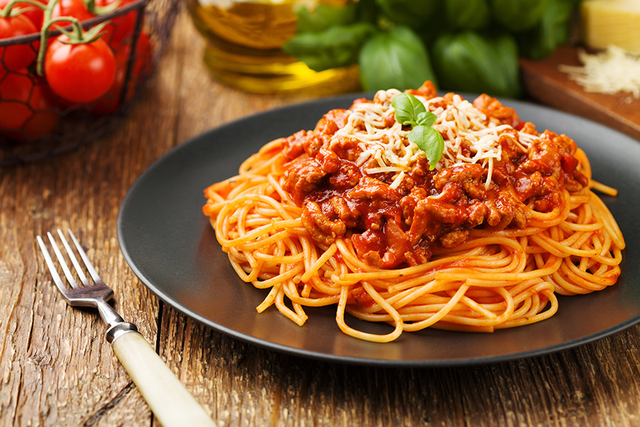 Mom's Spaghetti Sauce – Will Feed 1 person 6 times, or 6 people at one meal
Total (not including spices) about $15.00 (or $2.50 per serving)
Ingredients:
1 28 oz Can of crushed tomatoes $2.19
1 28 oz Can of Tomato puree $2.29
1 6 oz Can of tomato paste $0.53
1 C. Water $0
1 1/2 t. Garlic powder
1 1/2 t. Dried Thyme
1 T. Ground Oregano
Salt and Pepper to taste (about 1 t. Of each is good)
1 lb. ground lean hamburger (Can be left out for vegetarian sauce) $5.99
1 Med. Onion chopped $1.79
1 Med. Green pepper chopped $0.79
1 Box Dried Spaghetti noodles $1.49
Optional:
1 8 oz package of fresh sliced mushrooms (washed)
1 T. Of Balsamic Vinegar (for slightly sweeter sauce)
1/2 C. Red Wine
Instructions
Combine hamburger, onion and green pepper in a large pot (optional – add mushrooms here).
Cook and break up the hamburger, stirring often, until hamburger is browned (about 12 minutes)
Add all cans of tomatoes to the pot and mix together completely.
Add all spices and mix together completely.
Optional – Add wine or balsamic here as well.
Bring sauce just to a boil and then reduce heat to low.
Sauce will need to simmer, being stirred often, for at least an hour. Half cover the pot to avoid splatter.
At about the half hour mark, taste the sauce and adjust the spices to taste. If the sauce is too "bright" or tangy, you may need a little more ground oregano.
Boil spaghetti noodles according to their packaging.
Serve over pasta. Optional: garnish with a sprinkle of fresh parsley or a small amount of finely chopped fresh basil.
Top with Parmesan cheese.
To save the sauce for multiple meals, divide the noodles evenly into 6 freezable containers. Disposable storage containers with lids work fine.
Divide the sauce over each of the portions and ensure that the noodles are all covered with sauce.
Will freeze for up to 3 weeks.
Each portion can be microwaved directly out of the freezer to reheat.